It's race day! You've trained and prepped for months and now you're toeing the starting line. Do you have a half marathon pacing strategy that will give you a strong finish, a great race time, and possibly a PR? I've also got a half marathon pacing strategy for first-time half marathoners and another for times when you might be wondering why you signed up in the first place.
This is week #4 in Don't Know the Half of It: Half Marathon Series.

Don't Know the Half of It: Half Marathon Pacing Strategy
In general, there are three pacing strategies:
Positive Split: You start hard, and try to hang on. Not recommended for the half marathon
Even Split: You run even paced for the entirety of the race
Negative Split: Your second half of the race is faster than your first half
For half marathons, creating flexibility between an even split and a negative split racing strategy, will keep you going strong and give you an opportunity for some great race times.
Half Marathon Pacing Strategy by Miles
For the first three miles, run 5-10 seconds slower than goal pace
Build up to goal pace, settle into rhythm
Crush the last two miles
Sprint at the finish
You can see this half marathon pacing strategy could end up being an even split or a negative split, depending on your strength at the end of the race.

Tips for Half Marathon Stages
Beginning of the Race
The cheers from the spectators and the runners rushing around you will be a big tail-wind at the start. You're excitement will be bubbling. You have to consciously slow down, because you will start too fast. Rein yourself in.
Focus on keeping it straight and steady. Don't weave around people. You won't lose a time goal in the first couple miles of a half marathon.
Middle of the Race
The crowd will start to thin, and you'll be able to find your rhythm. Find an even pace or even effort. Periodically check your pace against your watch, but tune into your body as well.
Run the tangents. That is, run the shortest distance between curves. This is not cheating. This is how the race is actually measured. If don't run the tangents, you'll be running longer than a half marathon distance.
Check in with your body and time goals. When do you need to start pushing? Which goals are within your reach? How do you feel?
End of the Race
In the last couple of miles, you'll have to increase your effort. That might be to keep your goal pace, or it might be to speed up and create a negative split.
If you're feeling strong, stop looking at your watch, and instead look to your competition. The end of a half marathon is a great time to start picking off people who started too fast. Focus on a person ahead of you and gradually reel them in. As you pass them, give a surge so they feel discouraged to follow, then look to the next person.
When you get close to the finish, begin your sprint. There's beer at the finish!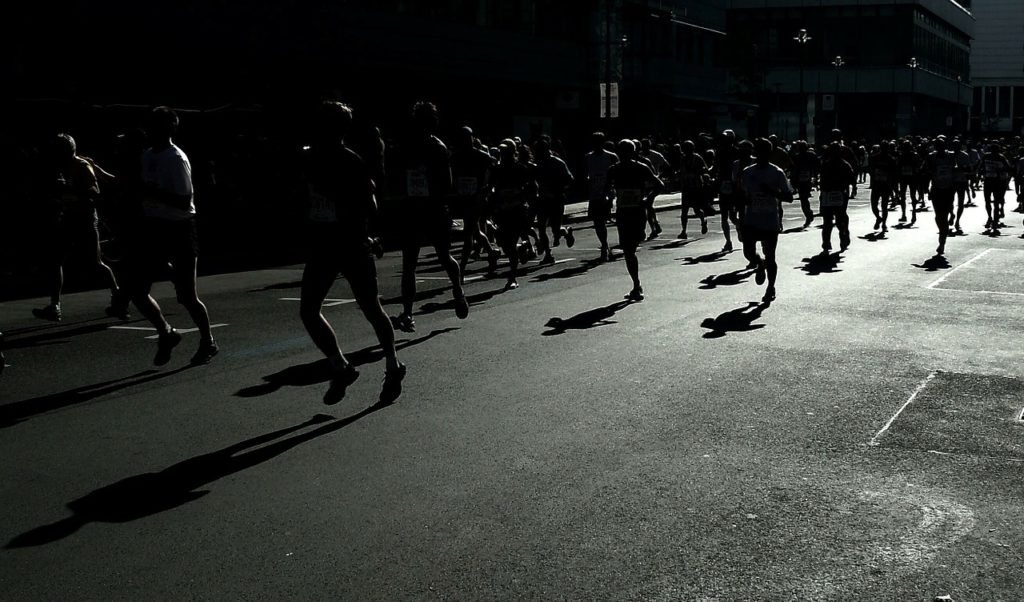 How do you choose your goal pace?
Choose your race pace based on your fitness, your goals, and the specifications of the course and weather.
Half Marathon Goals
I recommend 3 or 4 goals for a half marathon race, so you remain flexible and always have a goal you're working towards.
Personal record
Personal course record
Personal record by X minutes
Sub 2 hour
Sub 2:10
Sub 2:30
Sub X:XX
Finish strong
Finish without stopping
Finish without walking
Finish
By choosing and layering goals, you can always have something to work toward, hold on to, and count as a win.
Course and Weather
What's the forecasted temperature?
What's the forecasted humidity?
Is it hilly? Are the hills on the front half or the back half of the course?
Is it a trail race?
Are you adjusted to the elevation?
Temperature is a common pace-limiter. Temperatures of 55F can start to mess with runners. If you would like to run at 9:00 min/mile, and it's 75F, your body will be working as if its running 8:45 min/mile which suddenly might not be sustainable. And it gets worse with humidity. Choose your goals, pacing and fueling strategies accordingly.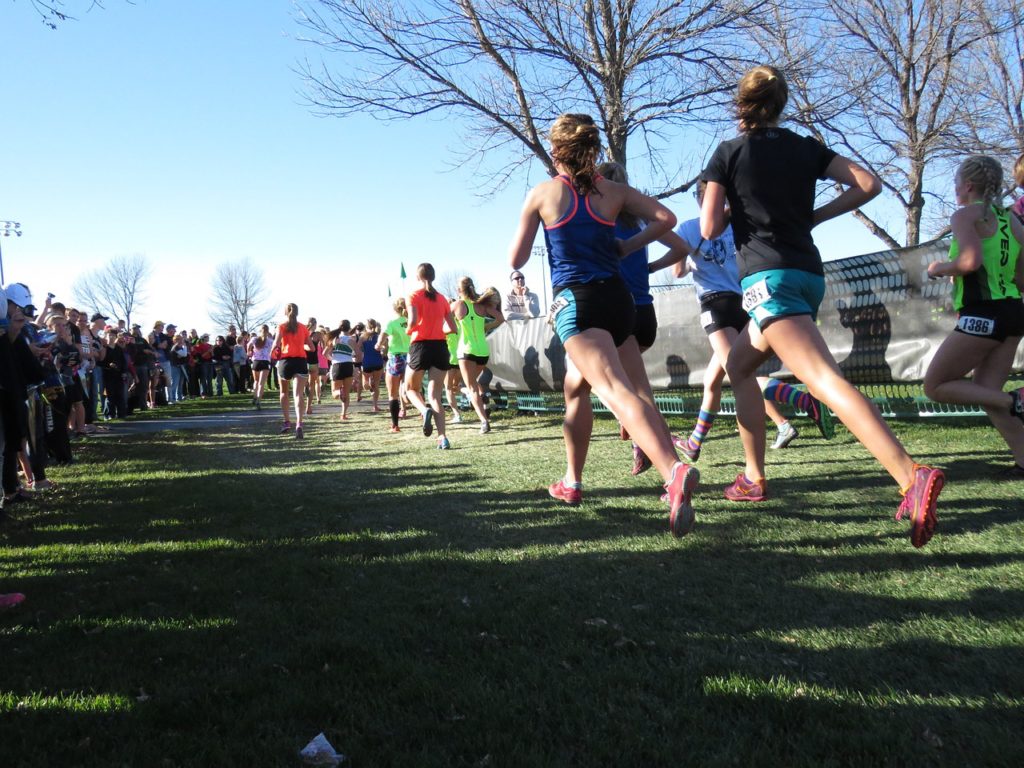 For First Time Half-Marathoners
For first time racers, I recommend no time goal. It's just so hard to predict what is feasible, if you haven't gone the distance before!
Good goals for first time half-marathoners are…
Finish without stopping
Finish without walking (or without extra walking breaks if you run/walk)
Finish strong
Finish
First Time Half Marathon Pacing Strategy
Run the first two miles slower than you want to go. You should be holding yourself back
Find an even effort, no panting, that you can maintain. When you reach hills, keep EFFORT – not PACE
When the last mile arrives, decide if you'd like to push the pace and pick up speed
Sprint at the finish if you've got it
If you choose a time goal, you might push too hard and fall apart at the end of the race. Then, next race, you still won't know a good time goal. If you instead run an even paced, solid effort for the race, you get a great race time that you can work with and improve on.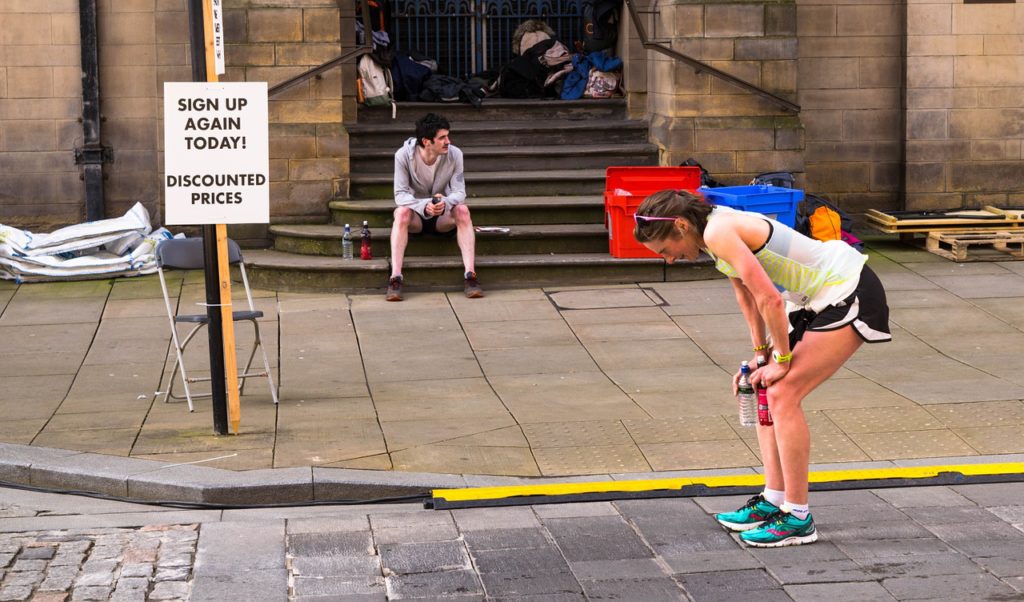 For the "What was I thinking?" Racers
Sometimes you have good intentions when you sign up for a race, but then don't get a chance to train. This is me basically every February half marathon, thinking I can train through the holiday season. ha!
This next strategy gives you a good foundation to either finish strong or finish without too much pain. It's great if you haven't prepared as much as you should have, but would still like to see what you're made of.
"What was I thinking when I signed up for this?" Half Marathon Pacing Strategy
1st mile easy pace
Next 7 miles cruise with even effort
At mile 8, decide to finish with dignity or push
If pushing, gradually pick up the pace each mile to create a progression run
Sprint at the end
Read this strategy in action here. 
Strategies vs In the Moment
The half marathon is a long race and strict agendas and plans aren't going to cut it.
Take into consideration temperature, humidity, and course difficulties to temper your expectations. Have a general guideline strategy like the above, so there is plenty of room for Plan B, C, and D. Race smart and stay flexible on race day. Good luck!
Further Reading
This is week #4 in Don't Know the Half of It: Half Marathon Series
Next week, we'll finish up with fueling strategies for the half marathon race.