Four week ago, this long distance runner began a 5K training program in between marathon training sessions. I thought it would be fun and it would increase my speed and anaerobic capacity. Turns out it was much more of a challenge than I thought.
I took on tempo runs, interval runs, speedy runs, and began training 5 days instead of 4 days a week. Saturday I did a mid-plan 5K test (under suboptimal conditions) and ran 28 seconds slower than my baseline 5K. I didn't do so well, but it feels on par with my training. It hasn't been going so well either.
Today, I'm recapping my training so far with a midplan 5K checkup and talking about how to nurture your body for training and growth.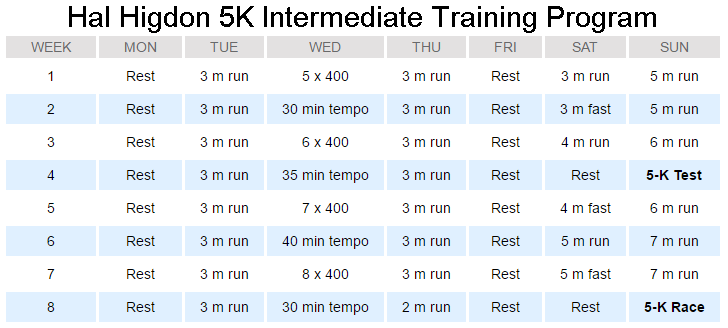 Midplan 5K Checkup
Week 1
I completed all the runs including my first speed intervals. But I crashed during the 5 mile long run, which is very embarrassing to say as a long distance runner. I've never regularly run 5 days/week which was part of the adjustment.
Week 2
After my first tempo run, I got the familiar and nondescript ankle and foot pain with the accompanying fear. I cut two 3 mile runs in half, feeling that I was doing more damage than good. I turned in my shoes with 466 miles to their treads and bought new shoes (which is a long, arduous process).
Hoka discontinued the shoes I was wearing (Stinson Lites), but I found a brightly colored pair of last year's model online. In attempt to cycle shoes and move away from discontinued shoes, Fleet Feet Savannah also helped me pick out some Asics GT 2000s, which have mild medial support for overpronation.
Week 3
I substituted the first 3 mile run for a 60 min bike ride as I recovered. I also pulled out my night splints. I completed the rest of the week's miles, including the intervals.
Week 4
I ran my second tempo run of the training plan. I tried to keep a steady pace, but I went too fast. "Comfortably hard" was not how I would describe the run.
I crashed halfway through my 3 mile run the next day.
My body demanded I stop running after 1.5 miles. I ran out of fuel. I felt hungry and weak. I finished up the run, but marked in my calendar to eat better before this run next week.
I got home and devoured anything I could find. Someone left a portion of blueberry soda in my fridge. I thought of the Oatmeal's Purple Drink (crude humor and language).
I also ate cereal and meatloaf (a classic result of runger).
Nurturing Your Body for Training
My mid-plan 5K didn't show any improvement from my baseline race, but training is not linear, so I don't feel panicked yet. It is a definite adjustment from my aerobic long distance running base to these intense, frequent workouts. I haven't been giving my body the best environment for growth either.
It's not just about putting in the miles. To really benefit from those miles, you need to nurture your body so that it can grow and adapt.
3 "opportunities for improvement":
Sleep: Your body needs sleep to recover and repair. I haven't been sleeping enough. For the next 4 weeks, I am turning off my computer at 9PM each night.
Nutrition: Another obvious need. Despite struggling with fueling my runs properly, I'm gaining weight. I'm going to watch my portions and beer intake, as well as time my meals and snacks better.
Get into the flow: I've pushed too hard in key workouts and underestimated the energy required for "easy" runs. I'm going to relax more into this process and focus appropriately on each run + its recovery. Have you ever dragged yourself through a program? I haven't gotten into the groove with this one, yet.
I'll be making these general changes to encourage training adaptations. I may not see the speedy results I want in 8 weeks. I mean, who am I kidding? I'm a long distance runner. But, I'm not ready to give up on it. Whether I get a 5K personal record (PR) at the end of this or not, I've learned a lot in this process that will make me a better marathoner.
(But I hope I get a PR!)
Further reading: