Using the Hal Higdon 5K Intermediate Plan I dropped 1:55 off my 5K personal record (PR) and 2:21 off my 10K PR. I placed in my age division 3 times in 5 races.
This Hal Higdon 5K Intermediate Plan Review is based on a long distance runner ultimately looking to improve marathon times. I used this plan during the off-season to introduce myself to 5 days running and consistent speedwork.
I wanted to get faster, and this training program helped me do just that.
The Hal Higdon Intermediate Program was 8 weeks long focused on increasing speed, endurance, and improving race performance. 5 days of running each week included key workouts and supporting 3 mile runs.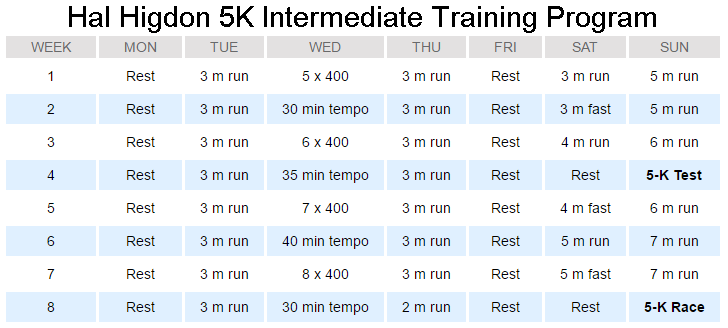 How well did I adhere to the plan?
I modified weeks 2 and 5, either shortening runs, missing runs, or cross training instead. During Week 2, an old foot injury re-emerged, signaling that I should have bought new shoes. Week 5, I dealt with burn out. I also missed a couple runs to recover from races that were not prescribed in the plan.
I changed the tempo runs. After my first tempo run, I maintained tempo pace for the meat of the run, rather than a few minutes peak at 10K as Hal Higdon prescribes.
What surprised me?
Being a long distance runner, I underestimated the energy required for short, but intense workouts. I wasn't expecting the carb and protein support required to run 5 days a week with tempo runs and speed intervals.
Hal Higdon 5K Intermediate Plan Review
I think the program needs more guidance on pacing for the key workouts. If the workouts are key, you want to do them correctly. I used McMillan's Running Calculator to help decide pace ranges – there is a section called "Training Paces" that have tempo and 800 m pace ranges.
Here is where free training plans can struggle. Determining your personal training paces using a few paragraphs on a website is difficult. It is even harder to know when to modify, especially when your mid-plan 5K test does not show progress. You could be training too slow, or you could be over-training.  I ran within ranges instead of precise times, and watched for diminishing returns on intervals. Listen to your body and make changes as necessary.
This program helped me run faster, learn speedwork, and run more often – all in a short distance package which lent to fast recovery times and plenty of racing opportunities. I increased my anaerobic threshold and maintained speeds that I couldn't touch before training.
I'd recommend this program for consistent runners who are ready for speedwork. Because of the short distances, it is tempting to tackle this program without a strong running base which would be a mistake. Build a strong running base first, then use this program to improve.
Further Reading:
What do you think of this training plan?