This Hal Higdon Marathon Intermediate 1 Plan Overview will discuss the plan's features, why I picked it for my 2016 fall program, and what personal changes I'm making.
*Update: Check out my first four weeks on this plan here.
The Hal Higdon website presents the Hal Higdon Marathon Intermediate 1 Plan for free. It is 18 weeks long, 5 days of running, 1 day of cross training, and 1 day of rest. There is an opportunity to run a half marathon race halfway through the program.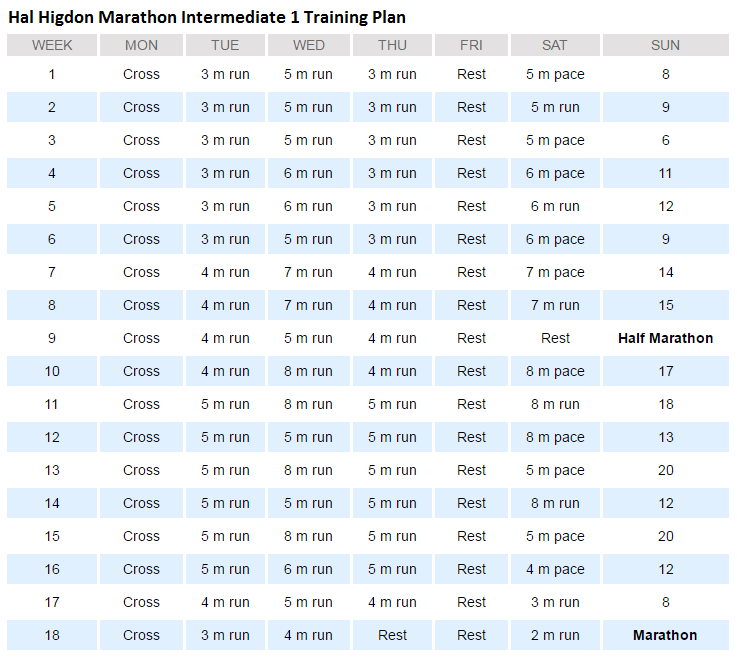 Hal Higdon Marathon Intermediate 1 Plan Overview
Each week includes:
1 cross-training day
2 days of 3-5 mile easy pace
1 midweek longer run of 5-8 miles
Saturday 5-8 miles alternating normal or marathon pace
Sunday's long run of 8-20 miles
The Basics
The first week totals 24 miles with an 8 mile long run. There are two 20 mile long runs, with the schedule peaking around 44 miles/week. Mileage cuts back every third week or so for active recovery and adaptation.
A unique characteristic of this training plan is back-to-back hard workouts on the weekend. Saturdays are typically marathon goal pace runs of 5-8 miles, followed by Sunday's long runs. The back-to-back runs gives you more bang for your two hard workout's bucks, building stamina and strength.
Click here to read more about choosing a marathon training plan.
Differences from Hal Higdon's Novice 2 and Intermediate 2 Plans
This plan is between the Novice 2 and Intermediate 2 programs. The only difference between Intermediate 1 and 2 is the mileage. Intermediate 2 has just a handful more miles each week. I considered using Intermediate 2 and then having 1 as a backup plan. I think depending on where you are, that is a very good plan.
Novice 2 has 4 days of running and 1 day of cross training. The similar race pace runs are in the middle of the week separated from Saturday's long runs. The Intermediate plans add a day of substantial running and stack the hard workouts next to each other to create a significant jump in difficulty. You can read my review of the Novice 2 plan here.
Why I chose the Hal Higdon Intermediate 1 Plan
While Hal Higdon's plans are very vanilla for novice and intermediate, the novice plans have worked well for me in the past. I have used the Novice 1 program and have beefed up the Novice 2 program. I will be using this program to cut my marathon time by 15 minutes (from 4:30).
Additional reasons I chose this plan:
I place importance on race pace runs, because I can learn how that pace feels in my body and how to find comfort there for long distances.
There are no hill workouts which is convenient for this low-country inhabitant.
Outside of the race pace runs, there is major pace flexibility. Looking at the marathon plans that have set paces for all the workouts make me anxious and following those plans would drive me crazy. I'm not ready for that. Maybe one day, but not yet.
I considered trying the Intermediate 2 plan. I even put all the runs into my calendar. But in keeping with my thoughts on overtraining, my injury history, my mileage base, and dental surgery the week before training start — I'm a perfect candidate for Intermediate 1, not for 2. And that ends up being a good thing, because I can review Intermediate 1 this year, and review Intermediate 2 next year.
Personal adaptations and changes
I am flipping Monday's cross-training and Tuesday's short runs. This doesn't make much training sense, since I will be sandwiching my long run, but Tuesdays are such a wash for me. I'm not going to pretend they aren't.
Hal Higdon is pretty adamant on keeping the order Pace Run then Long Run back-to-back for this plan. And that's OK with me, because college football is on Saturday. And I'd rather miss more NFL than college. 🙂
I haven't signed up for a half marathon race, but I know there is typically one 9 weeks before the Savannah Rock 'n Roll Marathon. I have raced a half marathon toward the beginning of marathon training, but never in the middle or later. I wonder if doing so will help break up some of the doldrums you feel months into a training program.
My biggest concern is having enough TIME to fit in all these miles. I may consider a gym membership so I have access to a treadmill. I trust in the fact that I've completed fall marathon training before and at slower speeds, so these extra miles may not take much more time.
Here's hoping, anyway.
Further Reading: