I never go on a run without my FlipBelt by Level Terrain. The FlipBelt is a unisex fabric belt that fits around your waist to carry things, like your phone and keys without them bouncing around. For years I've meant to write a FlipBelt review, which means my belt has lasted that long (2.66 years and counting).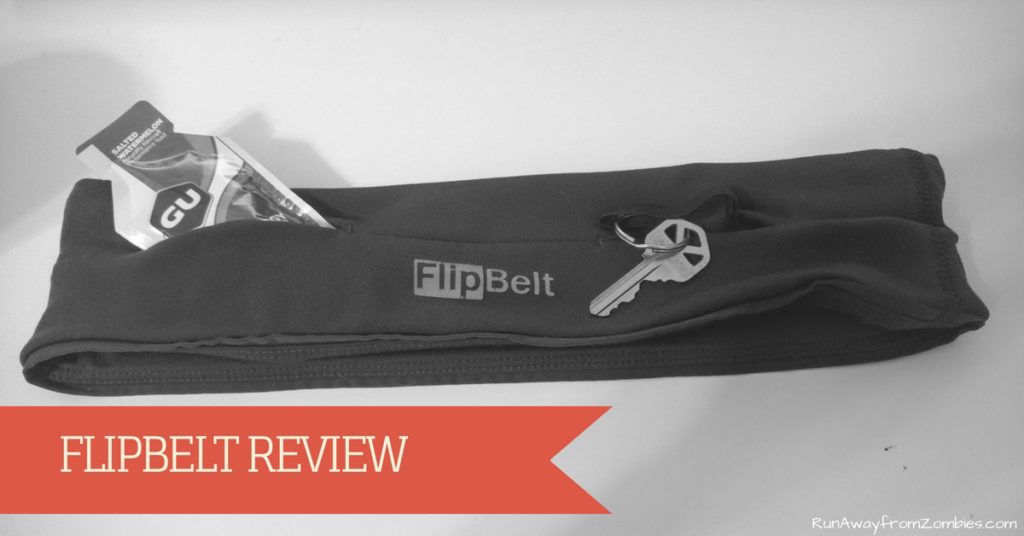 FlipBelt Review
*This post contains Amazon Affiliate links. If you click an Amazon link and buy something, I'll get a few pennies at no additional cost to you (Thank you!). FlipBelt did not ask me to write this review. I've just been really happy with it and wanted to share with you.
Design
The FlipBelt is basically a tube of stretchy fabric with 4 openings (not pockets) to shove stuff into the tube. Simple, right? The belt has no buckles or clasps, you pull it on like pants. It can sit low on your hips or higher near your waist. After stuffing it full of things, you can choose to flip the belt over so that the openings (two in the front and two in the back) are now facing your body. This secures everything to you, but I hardly ever do it, because most items (except for small items like coins) do not slip out.
The fabric is micro-poly lycra, which is stretchy and durable. The belt is machine-washable and tumble-dry ready. I just toss it in with the rest of my running clothes. The belt holds my large LG4 phone which is 3+ inches wide including its case (can also hold iPhone 6+, Nexus 5, and anything smaller). There is one vertical seam. The logo is reflective.
Function
I can carry my cell phone, key, gels and gummies, dog bags, pepper spray, chapstick, cash, and card, plus more. While I don't carry all that stuff all the time, it is easy to fit it all in there. I don't have to have different solutions (arm band vs fuel belt), depending on what I would like to carry.
As it ages
I cannot get over how well-made these are. They will last years and years.
The light blue one is 2.66 years old. The light color has gotten a little dirty around the most-used pockets. And you can see some stretch compared to the newer dark blue one (1.66 years old), but I do not notice a difference when I wear them. The newer one has an elastic sewn to the inside with a plastic key-hook. Earlier this year the plastic key-hook got too loose to hold a key, and then eventually broke off. I replaced it with a metal ring. The plastic may have lasted longer if I had always tucked it into the belt before being washed, if I had hang-dried it, and/or if I had hooked a metal ring to the plastic, and not forcing the key itself on the hook.
Wearing the FlipBelt
The FlipBelt can be worn underneath or over clothing. Underneath tight, synthetic shirts, the shirts would eventually ride over the belt.
With looser shirts, you can't even tell the belt is there. For those concerned, the FlipBelt can be worn like high-waisted yoga pants, smoothing out a muffin-top. I am wearing a size small, but if I wanted to wear it higher than my hips, I would probably size down. The company is happy to exchange for different sizes.
FlipBelt Review: Pros
Nothing bounces because it is all so tight to my body. Since it is a long tube, you can place items anywhere in the belt. I can shimmy the belt around so that things I put in the front are now against my back. Nothing moves around inside the belt either. I haven't had any chafing problems since it doesn't slide around and there is only 1 "rough" seam.
To be honest, I can't imagine beating the freedom I have when I pair my Bluetooth headphones with the phone in my belt. There are no cords. I can push the volume button on the phone through the belt without looking. I can slip the phone in and out of the front of the belt with ease when I want to check mileage. My phone stays in its case. I don't have to try to read and push buttons to something velcro-ed to my arm. My arm swing isn't changed because I have weight on one arm. (Watch people who run with a phone on their arm. Their arms have different ranges of swing).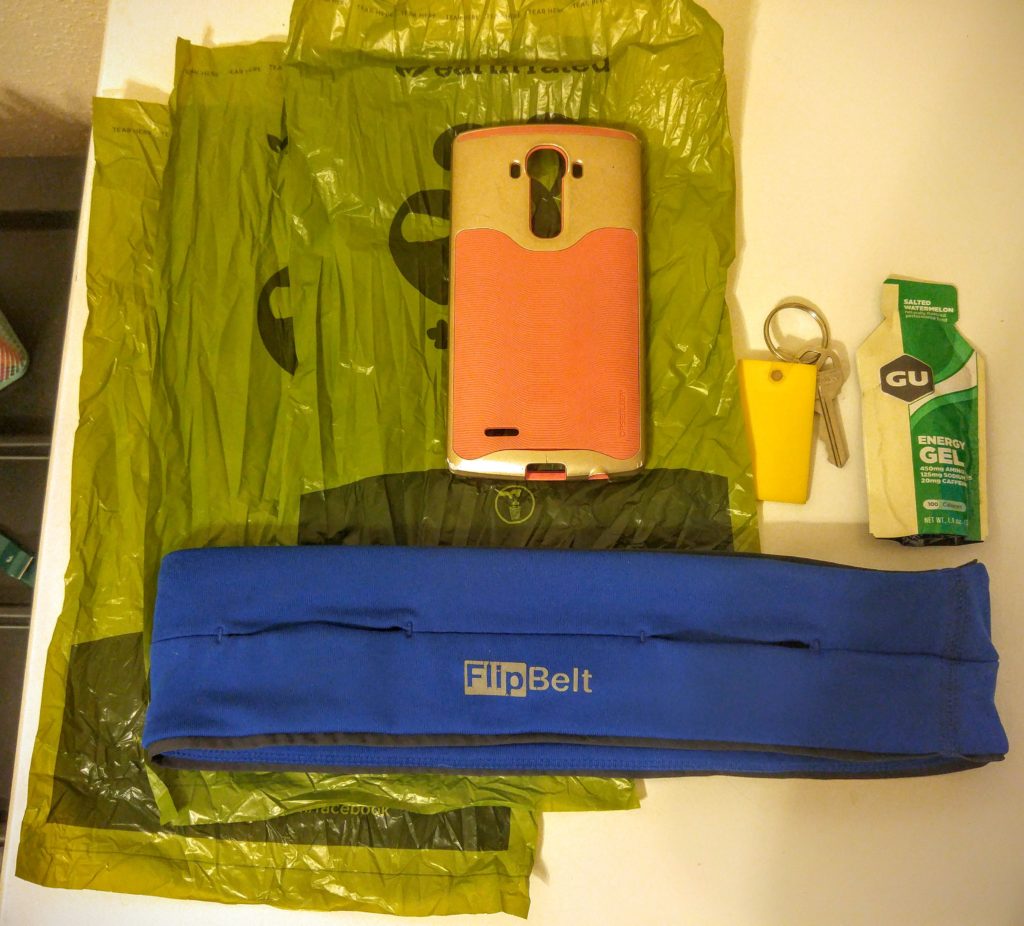 FlipBelt Review: Cons
My go-to disadvantage I'd state was that there was no way to carry water with this belt. However, Level Terrain has recently created bottles that fit into the belt. I haven't tried them yet, but they have piqued my interest. As of now, when I need to carry water, I use a hand-held bottle. Along the same lines, I wish there was a way to hook my dog's leash to the belt.
The lycra fabric absorbs a lot of sweat. If you are worried about your phone being exposed to moisture, you may want to give your phone extra protection via case, plastic bag, etc. The belts do dry quickly away from your body, which is great so that you can use it again tomorrow.
While running, it can be difficult to find a slot opening to put something back into the belt. And if you use corded headphones, you have to pay attention to which direction you are putting in your phone, especially if you are flipping the belt to secure it.
If you are carrying small items, like coins or one single key, I'd recommend flipping the belt so the openings are against your body, or putting them in a small pouch, so that they don't shift and slide out. FlipBelt also now makes a belt with zippers for extra security (and for traveling where personal property safety is a concern).
FlipBelt Review
The FlipBelt is a versatile storage solution while running. I have never dreaded putting on my FlipBelt and I often forget that I'm wearing it. It has last for years and has fit all the different cellphones I have had (no buying a new arm band for every phone and constantly transferring it in and out of its case). You can carry a lot of items close to your body without a bulky fanny pouch, the bounce, or the ride-up. I have not tested its water carrying solution, but it is now available, which was really the only qualm I had with the belt.
Buy the belt now and be in hands-free, arms-free, run like the wind happiness. Or at least, have a place to stash your phone.
What do you always carry on a run?
How do you carry all your stuff?