Trying to pick a marathon training plan?
This Hal Higdon's Intermediate 1 Marathon Training Review covers what works great in the plan and what may not work well, so you can choose your next training plan wisely.
Hal Higdon presents the Intermediate 1 program for free on his website. I used this plan for my 3rd marathon and improved my time by 12 minutes.
To learn about the basics of the training plan, check out the overview here.
Hal Higdon Intermediate 1 Marathon Training Review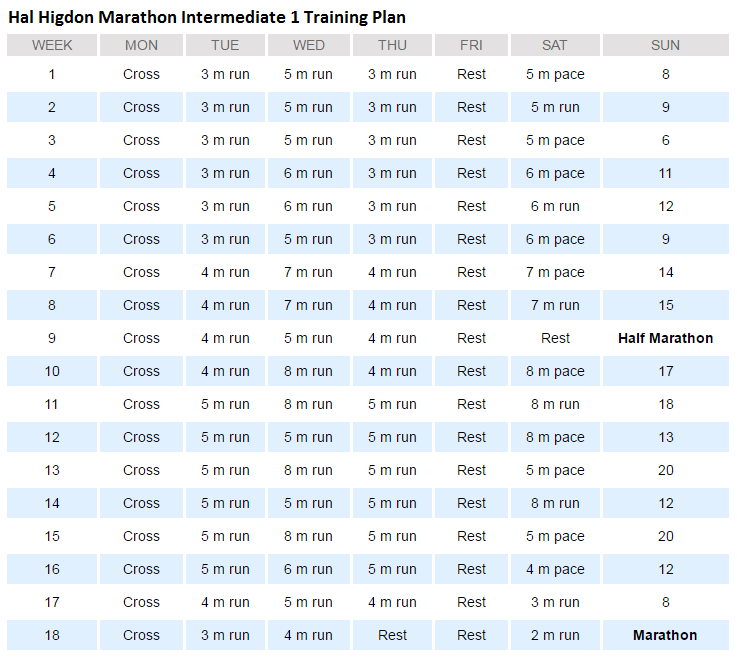 What worked well?
The program is well-organized with 5 days of running, taking advantage of both weekend days.
The two twenty-mile runs gains you a lot of confidence in your endurance and an opportunity to experiment with nutrition.
The cross-training day is flexible. I used the cross-training day as a day to leisurely bike and do extra stretching or yoga. You could power-up this plan by aggressively cross-training or use it as a day for active recovery, like I did.
What did not work well?
The back-to-back hard workouts (pace runs followed by long runs) meant I never gave 100% mentally or physically on either day.
On Saturday, I reserved myself for Sunday. On Sunday, I was always practicing on tired legs.
Don't get me wrong, practicing on tired legs is important. But, you don't need to practice it for every single long run. The ability to do other long run variations, like mid-run pace miles or fast finishes would benefit runners. Those could be done on cut-back weeks, but that defeats active recovery.
Having two hard workouts on the weekends pushed all the easy days together midweek. A tempo run with a long warm-up and cool-down would have been an excellent hard Wednesday workout, but takes away from the easy miles necessary for any training plan.
Hal Higdon Intermediate 1 Marathon Training Review
This plan physically prepared me to run my goal pace, but due to the nature and timing of the workouts, it didn't develop in me a lot of confidence that I could go my goal pace.
With only 10 pace runs in the 18 weeks and very slow long runs, the focus was on endurance.
I met my goal with this program, but I still don't know how I feel about it.
My first thought would be to add more pace or tempo miles mid-week periodically, but I think that would tip the scale to too many hard miles.
My conclusion?
The hard weekends/easy weekdays may be the perfect fit for the weekend warrior, making sure their endurance is up to snuff for a long distance race.
For traditional runners, the imbalance may lead to lower confidence of abilities and speed. Runners who want to practice goal pace more often should find a plan that allows for that in a more typical easy/hard pattern.
Related Reading:
Which marathon are you training for?