Signing up for my first 5K (3.1 miles) race opened the door to the world of running and exercise for me. Training for the 5K and all exercise before then had always been a solo endeavor. Going out to the race and seeing lots of other people running and walking and having fun – all ages and shapes – helped me understand the world of running. And turns out, I really liked it.
After crossing my first finish line and hearing the cheers, I was hooked. I wanted to see what other distances I could conquer. Before I knew it, I was signed up for a 10K, twice the distance, just to see if I could.
If you're interested in running your first 5K (or some friend got you to sign up), let's talk about how to train and get ready for your first race.
Your First 5K: Training Tips and Advice from a Seasoned Runner
First Things First
Buy shoes. Invest in a good pair of running shoes. These are the basis of everything! Go to a running specific store with experts that can help, not the mall or a sporting goods store.
Get some gear. You want to have the proper clothes to run your race (jeans are not recommended). Also, for the ladies, make sure you have a well-fitted sports bra.
Register for the race! If you sign up, you are more likely to follow through. And, in many cases, the earlier you get signed up, the cheaper the registration fee!
Start Where You Are
I know many first running experiences go like this: You lace up your shoes and you start running. You get a block or two or maybe even three if you're lucky, before you start to feel MISERABLE. You can't breathe. It hurts. This sucks. Why am I out here?!
Instead, start where you are and build from there. You'll make faster progress. You won't get as discouraged. And you won't hate going out for a run.
For some, 20 or 30 minute walks are the first step. Get used to being on your feet for 20 or 30 minutes of steady walking. It doesn't seem like much, but we actually don't ever do it unless we plan it into our days. This also builds the habit of training into your week.
If that's easy for you, then add in some running. Mark your workout for 20 minutes. Walk briskly for 5 minutes to warm up. This will get your heart pumping, blood flowing to your legs, and your lungs primed. Running will be easier if you warm up your body first and don't try too much too soon. Run for 30 seconds, and then walk for 30-60 seconds or until you feel recovered. Repeat. Slowly build up how much you run in your 20 or 30 minute workout. Build to 30 minutes.
A lot of people go out and run for as long as they can and then pack it home. That might be 1 or 2 miles, but you really need to extend the length of your workout to see progress.
Do the Talk Test
To get the fastest improvement, you need to be building up your aerobic system. This is the way your body gets oxygen and it needs more when it runs. Time your inhales and exhales to every 2-4 steps. And if you can't talk to your running partner while you're running, you need to slow it down some. By working in the correct "zone" you'll be able to run farther and for longer as you train. And as your body gets stronger, your "zone" will become a faster pace.
Don't Overdo It
Don't run yourself into the ground for every workout. Your goal is to make it to the 5K still enjoying your workouts, still enjoying running, and making it a new habit. Finish your workouts with a little something left in the tank, knowing you could go longer and farther if you wanted.
During your workout, don't wait until you're exhausted to take a walking break. Start walking a little earlier. You'll recover faster and be able to do the next run interval earlier and for longer than if you push yourself into misery. Running doesn't have to be torment. Progress is seen with consistency, not agony.
Don't run every day. Aim for 3 days a week, and you can walk or do another activity (swim, yoga, etc) on a fourth day if you wish. Resting is when your body actually repairs and gets stronger from your runs. You need rest days to see progress.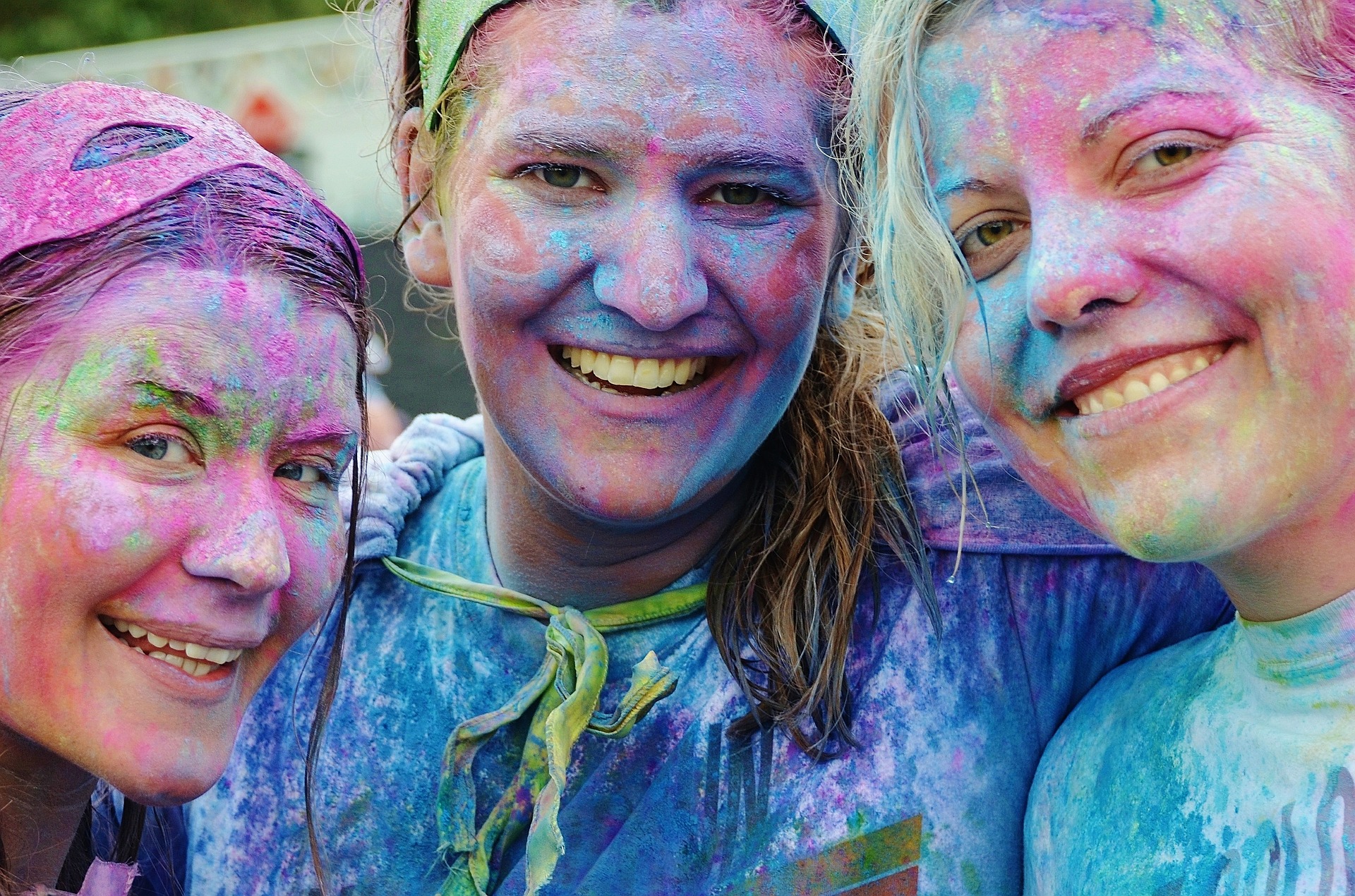 On Race Day
There are lots of run/walkers – and a lot of them have quick paces! But many have a goal to not stop running for a 5K. Either way, your goal should be to complete the 5K, crossing the finish line with a smile!
Essentials for reaching that goal include:
Eat a light breakfast
Give yourself time to park, register or pick up your packet if needed, and use the potty
Come to the race with several goals. Set one difficult goal – like not stopping. Then, set secondary goals – like finishing the distance, for if things go awry
Have a mantra. At some point during the race, you will get discouraged (I know I do!). Write a mantra on your hand and recite it to yourself.
"I can do this!" 
"Just keep swimming!"
Run at conversation pace for most of the race. When you see that finish line, you can speed up and kick it in
And remember to have fun! Go with a friend, enjoy the cheering, cheer for others, and then go have brunch
Get Out There and Run Your First 5K
Training for your first 5K doesn't have to be painful. Start where you are, gradually increase, don't overdo it, and stay consistent. Everything else will fall into place.
But be careful running your first 5K – you might get hooked and then it won't be your last.
A free ebook for those learning how to run with 5 important things you need to know.
Readers: Tell me the story of your first 5K!