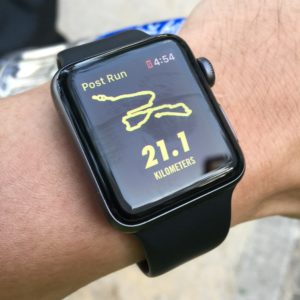 You've been running consistently – week after week. But it's all the same pace. How do you begin to do "hard" workouts?
How do you begin to build speed?
First, remember the one mistake every runner makes: going that moderately fast pace every single run. Now's the time to slow down your easy runs and bump up the difficulty of your hard runs.  (Read more on balancing easy and hard days here).
3 Ways to Build Speed
1. Fartleks
Fartleks are a great way to gradually build speed as you run. Warm up with 10 minutes of easy running, then simply add some faster spurts of running as you go. Run fast to the next lightpost. Run medium to the corner. Return to conversation pace in between your pick-ups. Finish with 10 minutes of easy running.
The goal is to sprinkle in some faster running to train your anaerobic system while still spending good time on your aerobic foundation – from which you'll be able to run farther and faster.

2. Faster Miles
There is a higher injury risk for speedwork. Leaping into hard interval work with a poor foundation can quickly land you on the sidelines. Building in some faster miles in an aerobic run can make sure your body is warmed up and can give you time to listen to your body for any issues.
In a 3 mile run, run easy the first mile and the last mile. For the middle mile, pick up your pace to medium-hard. At the end of the 2nd mile, I want you to think, "I could run one more mile like that".
As you progress with this workout, don't go faster, but instead build the distance of the hard portion. This will build speed endurance. Work up to 4 miles or 5 miles, possibly with a recovery jog in the middle, depending on your goals.
3. Progression Runs
In a progression run, you run faster at the end of the run on warm and tired legs.
For example, in a 5 mile run, you could run the first two miles easy, 3rd medium pace, 4th hard pace, and easy for the last mile. It's just one mile of fast running, but it's late in the run. It makes for a hard workout that requires focus. You can build distance so that you're running more miles at medium and hard pace.
Other types of progression runs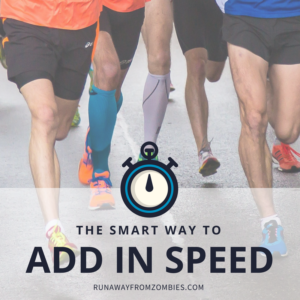 Building Speed
There are so many options to build speed in your runs. Make sure you have a strong aerobic base before starting and do easy recovery miles to support your hard workouts.
Know that each workout has a purpose and pick the type and difficulty based on your goals. If you have any questions, reach out at rebekah@runawayfromzombies.com. And if you'd like to start training for the next level, I can coach you one-on-one or build a custom plan for you to start.