OMG, this race was so much fun! Check out the Baker's Pride Donut Challenge 5K: Run to a bakery, eat donuts, and run back. Awards based on donuts eaten + finishing time. One donut not enough? Try six (which I did not).
2017 Baker's Pride Donut Challenge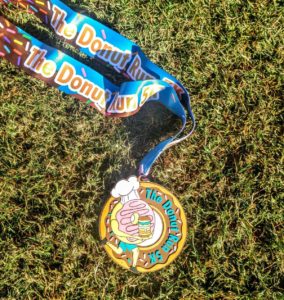 I knew after training six months for the Rock 'n' Roll Half Marathon that I'd be dealing with some post-race blues in the weeks following. It's natural to get a little "slumpy" after, no matter if the race goes fantastic, average, or horrendously awful. But this year I planned ahead and signed up for a race I've always been meaning to do – the Baker's Pride Donut Challenge.
When you register for the race, you pledge how many donuts you'll eat mid-race. You can pledge to eat one, two, three, four, five, or six donuts (six is the original challenge!). And these aren't your average donuts – they're from Baker's Pride (a family owned bakery in Savannah) and are giant, glazed, and fluffy.
Every once in a blue moon, TH (The Husband) says, "Hey, sign me up for that race too." This time he just said, "I want donuts," so I took the prerogative of signing him up.
2017 Baker's Pride Donut Challenge RECAP
The race began on the curve of a school's athletic track which made for an awkward and crowded start, but things soon spread out and I started into a rhythm for the first 1.5 miles. By the time I reached Baker's Pride, my stomach felt twisted up. I haven't run that pace in a long while and I think this whole donut thing was also making me nervous.
First 2.5K: 13:29
It's Time to [Eat] the Donuts
I found the tables that provided 3 donuts – the number I pledged – and fruitlessly attempted to find the smallest donuts on the table. The three donuts filled up the entire paper dinner plate!
I accidentally took a selfie pulling out my phone. I'm very happy with this mistake.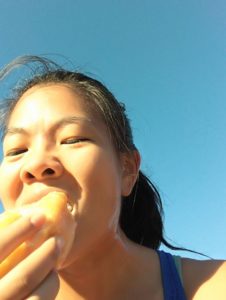 First donut: So fluffy and delicious
Second donut: Even better than the first. Man, Baker's knows how to do it.
Third donut: Ugh
Then, my mistake. I shoved the last giant bite in my mouth, stood up, and walked to the trash can. That was too many actions at once. Bite was too big and my body reacted to the visual sight of the trash can (too many drunken nights?). But, I managed to pull myself together, kept it all down, and began jogging back.
Donut Split: 6:45
Back to Running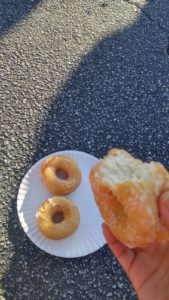 A volunteer asked me if the donuts were good.
I managed a nod. Please don't talk about donuts right now!
But man, sugar rush! My legs felt so good. Then my stomach settled. I didn't push super hard because I'm still dealing with the congested chest/asthma combo and I didn't want my stomach to suddenly revolt either. I had asked a lot of it already.
The race was an out and back, finishing on the athletic track. I ran a negative split – faster in the second half than the first – which I was super proud of.
Last 2.5K: 12:35
Mile+Donut Pace Discovered
My official time was 33:00, 4th in my division (donut division – no age divisions!). I missed the podium by one runner, but was well outside of the podium time wise – the top three runners were all sub-29. I gotta cut down my donut splits! But now that I know my mile+donut pace is 11 minutes flat, I have a place to start training for next year. 😉
And for once, I got to take a pic of TH crossing the finish line!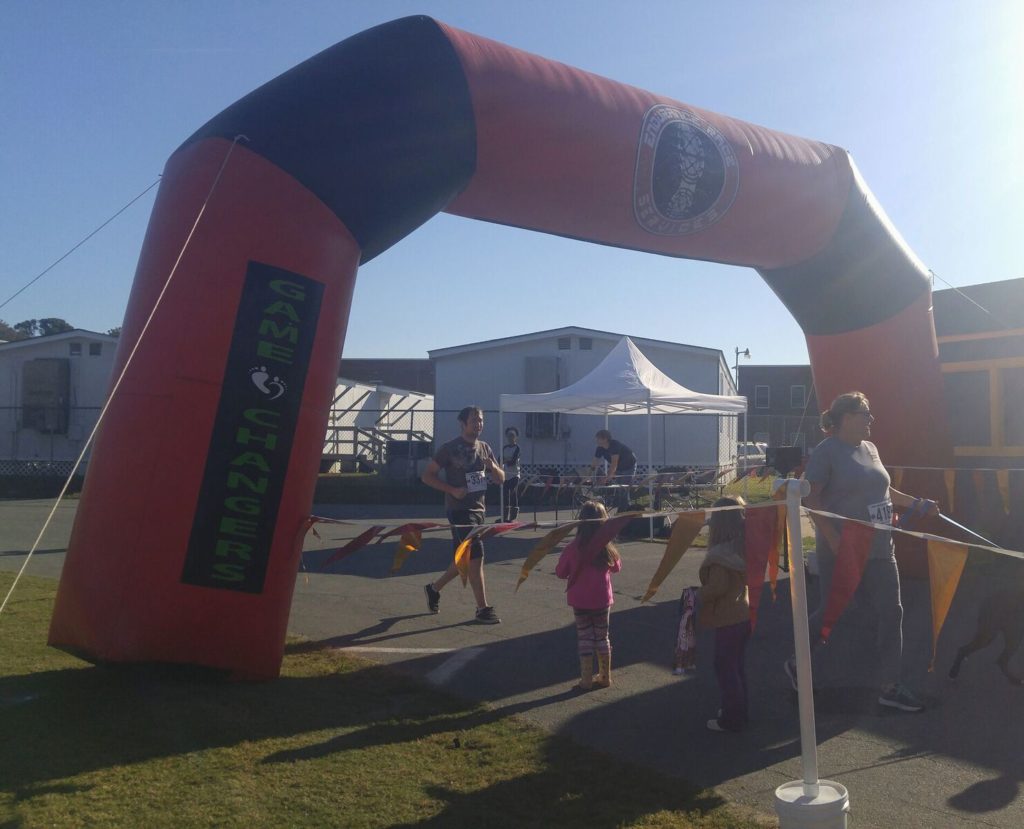 The Baker's Pride Donut Challenge was amazingly fun and raised money for three different charities. Dog friendly, stroller friendly, timed, and adorable finisher medals to boot. I'd highly recommend this race for local runners coming off post-race blues, an alternative to your turkey trot, or to start off your day before touring Savannah.