I'm a big proponent that runners only need 3 or 4 specific pieces of running gear to get started (check it out here), but as running has become an expansive part of my lifestyle, I've accrued some additional items that have made my runs easier.

Daily Running Gear
Note: Many of the links in this post are Amazon Affiliate links or other affiliate links. If you click-through and buy something, I will earn a small commission at no cost to you.
Running Belt and Water Bottle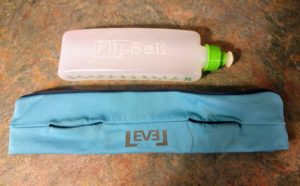 I have spoken before about my running belt that has worked so well for me. You can read more about it here. And since writing that review, I bought the water bottles which have tried to sneak their way out of the belt a handful of times, but are otherwise a good upgrade. Check out some other ways to hydrate during a run here.
GPS Watch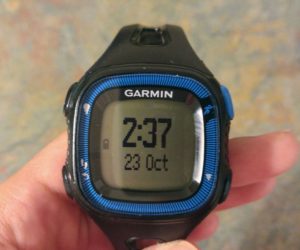 This year, I finally got a GPS watch. And… let's be honest, I only got one because one of my best friends upgraded and gave me her old one. But! I liked it so much that I bought my mom the same model for Mother's Day.
The Garmin Forerunner 15 is one of the most basic models. This one currently runs about $80-100 and refurbished ones are less than that. Features of this watch include:
GPS to track your run
Ability to sync with your computer and several apps (I've synced with Training Peaks, Final Surge with my clients, and Nike+)
Current pace based on some propriety algorithm which is never perfect (but they never are)
Lap time at the end of each mile (or KM probably, if that's your thing)
Elapsed time (and a bunch of other basic features)
Additionally, it's waterproof and it tells me when I'm hitting the race too hard or if I'm a slow-ass, and syncs to create a training log on my computer, so that's all I really need at this point.
Bluetooth Headphones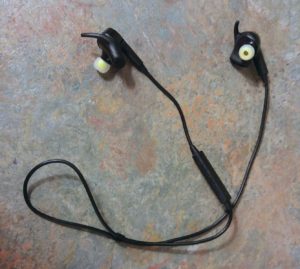 I also use Bluetooth headphones. I'm not super keen on the ones I own, so I won't recommend them specifically. But I do recommend them in general as a splurge purchase.
Things to consider when purchasing:
Look for ones with a warranty (the company replaced mine when they farted around year 2)
Consider ones that connect the buds together by a wire. You don't have to worry about one of them falling out and down a street drain
Check out the buttons. Mine has a multifunction button that is poorly designed. For example, to turn off the headphones, I hold down a certain button. If it registers as a "press" instead of a "hold", then it re-dials whoever I last called… which I've never wanted to do in my entire life, before or after a run.
Personal Safety Items
I always run with my RoadID which states my name, medical information, and emergency contacts. It's a simple and durable piece of gear and the company is fantastic.

If I feel the need to bring a defensive item, I have a small bottle of pepper spray available at many general stores. I was also gifted a stun-ring. It is a small handheld device that can deliver a shock between its two electrical contacts (it doesn't spring out like a taser). It has an on switch and a trigger, but I still don't feel comfortable carrying it in my sweaty FlipBelt. I'm afraid I'm going to shock myself! So if I feel comfortable carrying it in my hand the whole run, I bring it, but otherwise it's not very convenient. Please check with your state and local laws for legal use of such devices.
Running Gear: Running with Dogs
I have my dog that I run with and I've also taken on some doggy clients. Owners love the option to have their dog run, instead of just being walked. Running burns more energy and a tired dog is a good dog.
I pair the Flipbelt water bottles with a collapsible water bowl, both of which fit into my running belt so that I can still have both hands to handle the dog(s) during the run. My preferred bowl is waterproof cloth and foldable so I can stash it in the FlipBelt.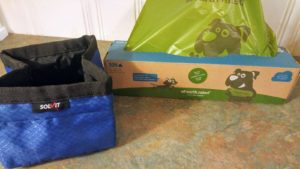 I also shove a bunch of doggy bags into my belt. I like the Earth Rated dog bags in the pantry-size box rather than one of those plastic bone-shaped dispensers that bounces around during a run.
Running Gear for Races
When I'm racing, I add on two more items. A race bib holder, which makes the whole safety pin – where are they – ugh I pinned it crooked – debacle – null and void. It is also fantastic if you've layered clothing. You can easily unsnap the belt, take off whatever clothing you desire, and then clip the belt back on. It sounds like a luxury item, and it is, but I was gifted one last year and I always use it. It's just one more stress that can be avoided on your way to the starting line.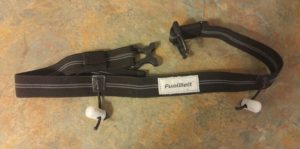 I also add a handheld water bottle if I'm going to need extra fuel (liquid calories, like a sports drink). It's great if you can't handle what they're serving on the course, and is easy to refill at an aid station if you can handle what they're serving. It holds twice as much as my FlipBelt bottle. The Nathan brand ones are expensive, but mine has lasted forever.
Miscellaneous! I also use sunscreen, bug spray when appropriate, a hat for rainy or sunny days, and cocoa butter on places that might chafe.
How Much Running Gear?
I don't want you to treat this as a list of all the running gear you need to be successful. I ran years without a GPS watch. My athletic shorts are usually a few bucks on clearance. Some people are big gear people, some people love high-tech clothes or toys, and some need more for intense runs out in remote areas. The running gear that's right for you may be more or it may be less. But, I wanted you to see what my day-to-day running looks like. And maybe add a little something to your Christmas list.
Happy running and happy gear hunting!