I've lived in Savannah for basically all of my running-life and mostly, I race in Savannah. It means I know hot, humid, and incredibly flat miles. One time my coach sent me on a "hilly" run, but when I put my route into the computer, it told me I had run negative elevation. All of Savannah is like that. So, the Enmarket Bridge Run becomes a bit of an annual challenge as it is the one chance Savannah has to race "The Bridge" – the Talmadge Bridge. And, to be honest, I've been nervous to take on such a challenge.
The Enmarket Bridge Run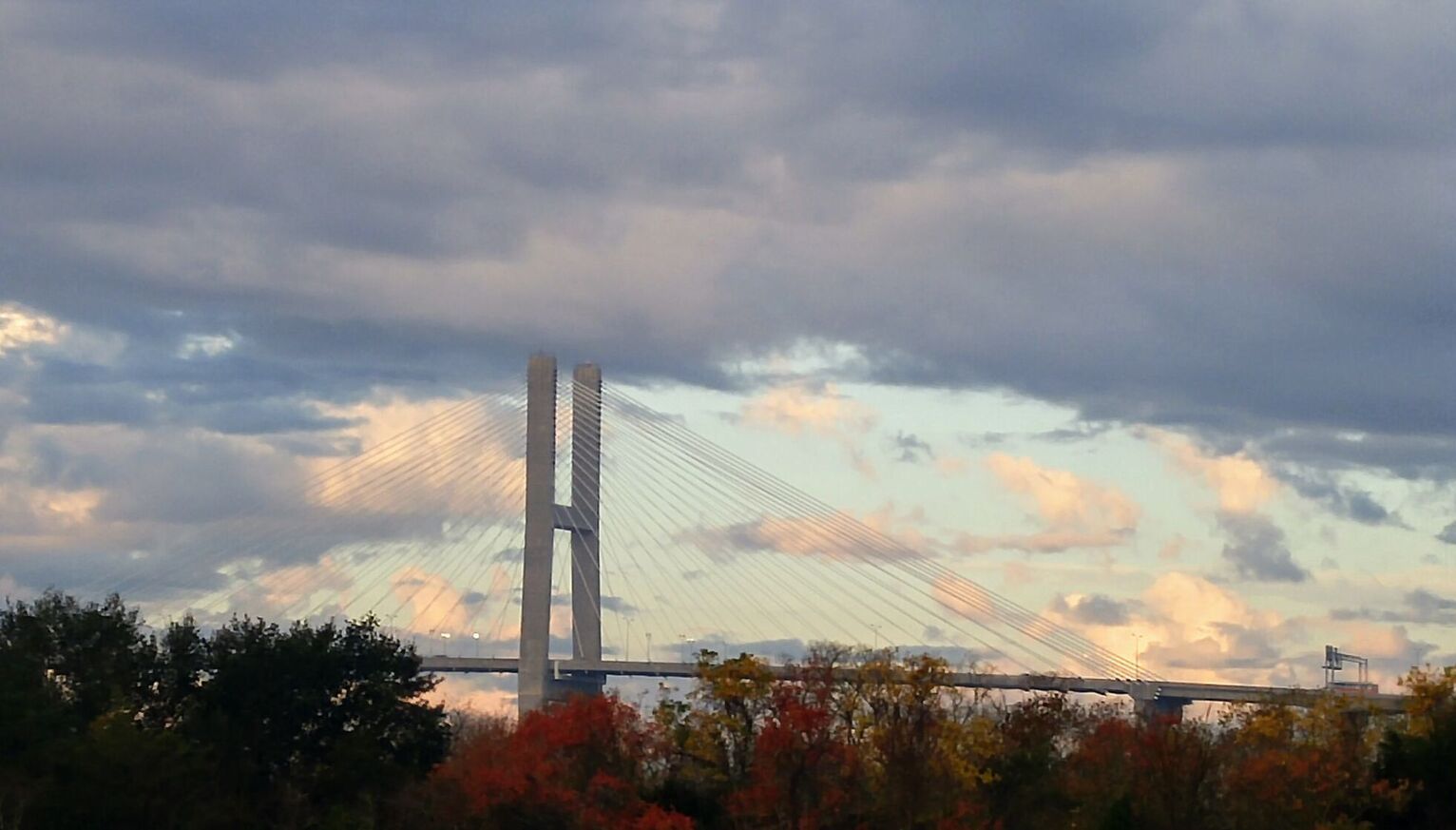 This race is a huge draw for Savannah locals. We've just come off the Savannah Rock 'N Roll races and are ready to have some fun, including post-race beer, Brunswick stew, and a highly competitive costume contest.
The Enmarket Bridge Run offers three race options:
5K – Starting at 8AM on Hutchinson Island, crossing the bridge, then into Savannah for the after party (with trolleys to bring you back)
10K – Starting at 9AM in Savannah, crossing the bridge onto Hutchinson Island, then back over the bridge for the after party
Double Pump – A challenge to run both races back-to-back
Despite being nervous, I chose the Double Pump. Why was I nervous? Uphill running. The bridge height. Cars passing. And the logistics of a double race, parking, and transportation. But, thankfully TH (The Husband) came to cover all the driving, parking, and to be my calming voice.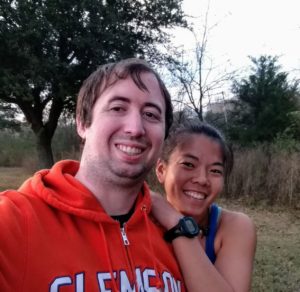 2017 Enmarket Bridge Run "Double Pump" Recap
The day before the race, I had my first pole fitness class in probably three years. My amazing teacher, Sabrina Madsen, jumped me right into upper body conditioning and doing multiple inverted combo moves. Which is a lot of words just to say that my entire body was aching and bruised when I woke up for the race. My hands, arms, entire torso and trunk, and feet were achy, but most concerning was my left Achilles. I either fatigued it by the constant tip-toes standing or banged it into the pole — or both. With each step I felt a tiny pinch – not bad, except I'm about to do a bunch of uphill running.
What I didn't want to do was destroy my Achilles at the start of marathon training. I considered resting and not going to the races at all. I warmed my Achilles with a heat pad, put on my shoes, and tested it with some jogging outside and some treadmill incline inside. No pain jogging, so I decided to give it a go. I could always just run the 5K or bail and get picked up by TH if things weren't going well.
In the two hours before the start of the race, my Achilles fully warmed up and stretched and it became a non-issue. Just my fear of the big bridge remained.
Enmarket Bridge Run – 5K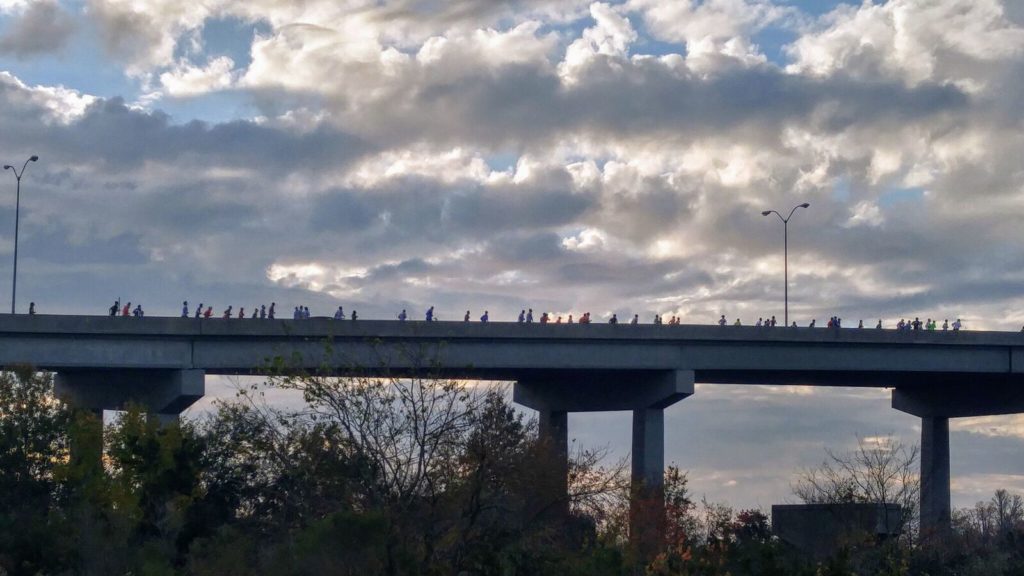 Mile One
There was a lot of runner-traffic congestion at the start. Runners and walkers had their own starting lines, but started at the same time. So when we reached a narrow road, there was not much room to navigate. I signed up for these races as a hilly training run – to build strength at the start of marathon training – so I didn't stress about it. I even stopped to take a couple of pictures.
Time: 10:58
Mile Two
The traffic began to clear up, and up the on-ramp we started. My legs felt great – with the month to recover from the half marathon and my chest cold, I realized how much strength I had built up in my training. I hadn't seen it this year, so I'm glad I raced one more time. When the incline felt tiresome, I looked around and took in the view. The sky was streaked with clouds and gorgeous colors with the recent sunrise.
Time: 10:08
Mile Three and One Tenth
Wow, Savannah needs some of these downhills. I didn't fight gravity, but stayed in control and kept my core engaged. We took the off-ramp and I had been warned that there was a steep little hill after the bridge. I pushed through that and kept my legs turning fast. I enjoyed a sprint at the end.
Time: 9:55
Official Time: 31:32
Enmarket Bridge Run – 10K
Miles One & Two
The first 1.75 mi of the course was running downtown through some of the squares. I started further back and the traffic, especially the walkers, killed my pace. The course was narrow and they didn't clear the parked cars, so you'd finally get some space and then realize you were going to smack into a car. But I liked that we were doing the off-bridge miles at the start rather than the end.
Time: 10:26 & 9:47
Mile Three: Up & Over
Going south to north on the bridge feels a lot tougher. The on-ramp is straight up and is actually most of bridge's incline. I was happy that the traffic had cleared and happy to see the view again. The clouds had cleared up and it was getting hot, but the shift in light changed the view of Savannah, the ports, rivers, and marshes.
Time: 9:14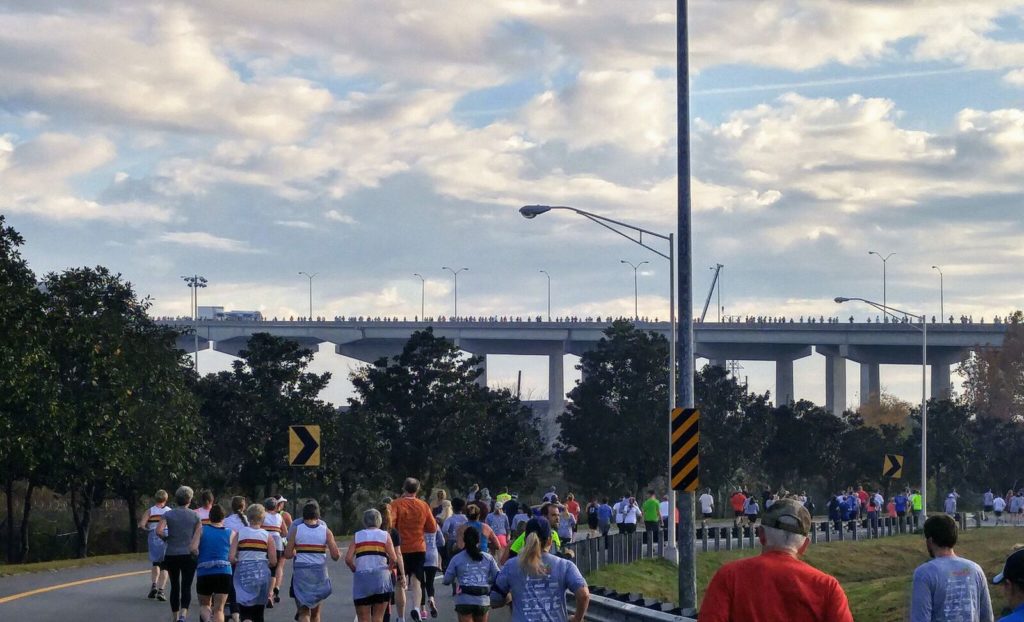 Mile Four: Looping Around
The downhill really got my legs turning and so I let them keep running when we hit flat ground. My upper body was still really sore from pole, but my legs and lungs loved the chance to actually run fast, since we sort of missed out in November.
Time: 8:43
Mile Five: Up & Over…Again
The sun was really starting to blast – just in time for the last uphill. I kept a slow but steady pace and waited for the even-out and downhill. For the downhill, my upper body really started to tense up. I knew every downhill step with a tense upper body lengthened my recovery time, but I wasn't going to put on the brakes any more than my upper body already was.
Time: 10:01
Mile Six and Two Three Tenths
The rest of the downhill, the steep hill, and the finish. I was familiar with the end of the route now and began my hard push at just the right time. I passed a bunch of people and sprinted to the end.
Time: 10:57 (8:37 min/mi and 7:52 min/mi)
Official Time: 59:07
Double Pump Accomplished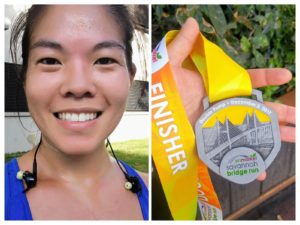 My combined time was 1:30:38, not competitive at all for my age group, but I got in a hilly long run, had some fun, and conquered a fear.
Depending on the time and distance of next fall's goal race, I will consider actually racing the Enmarket Bridge Run next year. I'll start closer to the starting line so I don't get caught up in traffic and not be afraid to push a little harder in the 5K race.
I enjoyed Brunswick stew and a beer before TH took me to Clary's for a ridiculously large southern breakfast.
Maybe this upcoming year I'll drum up some more courage and join the group that runs the bridge on Sundays. Eek…maybe.
One day.