If the recipes in the Runner's World magazine entice you, The Runner's World Cookbook compiles 150 of their favorites, including breakfasts, soups, and main dishes. Here's my quick review on the book and some recipes you can try today.

The Runner's World Cookbook Review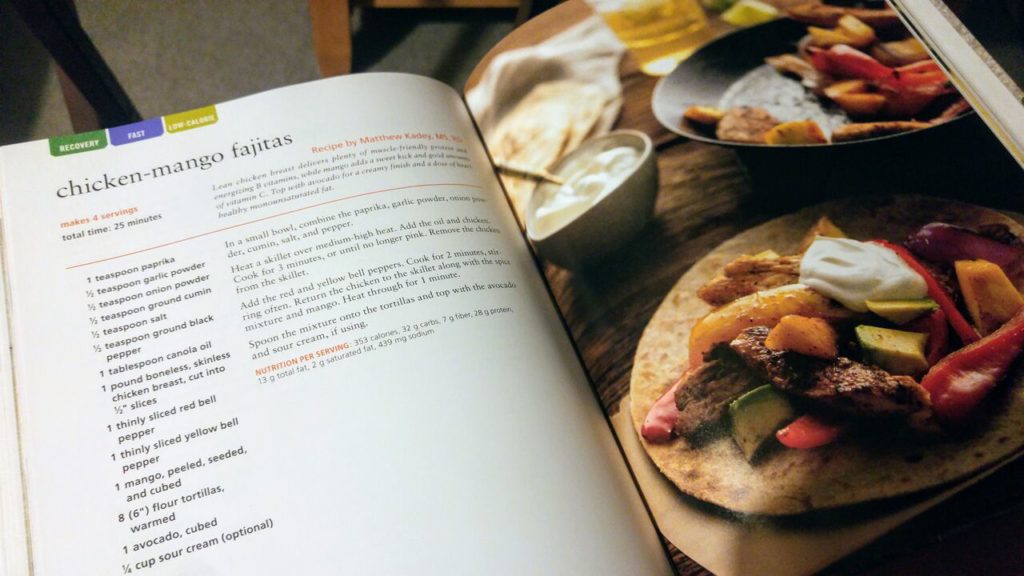 Disclosure: I was not asked to review this book. I was not given this book for purposes for promotion or review. All opinions are entirely my own. The Amazon links below are Amazon Affiliate links. If you click through and buy something, I will earn a small commission at no cost to you.
The Runner's World Cookbook was published by Rodale Books and is available on Amazon.
Things I liked about The Runner's World Cookbook:
The runner focus, including what meals are good for pre-run and post-run
Ability to swap frozen and fresh ingredients for many of the recipes
Nutritional information per serving and some discussion of variation/modification
Things I didn't like about The Runner's World Cookbook:
Too many recipes for simple items like; spreads, dressings, and smoothies
No lactose-free category (which affects 65% of the world)
Some recipes have required a bit more spice or flavor
Recipe Key
The book is divided into main food categories such as breakfast, soups, or poultry mains. Additionally, each recipe has multiple classifications to help you see some of the recipe's characteristics at a glance. A lactose-free label would have been appreciated to capture the recipes that were lactose free, but not necessarily vegan or vegetarian. The recipe key is broken down into these classifications:
Pre-run: carbohydrate heavy with less fat, protein, and fiber that might upset stomachs pre-run
Recovery: carbohydrate to protein ratio between 2:1 and 3:1 with at least 15 grams of protein to rebuild muscles and restock glycogen stores
Fast: 30 minutes or less to prepare
Low-calorie: 400 calories or less per serving
Vegetarian: no meat, poultry, or fish
Vegan: vegetarian and additionally excludes eggs, dairy, and honey
Gluten-free: uses naturally gluten-free ingredients
Recipes from The Runner's World Cookbook
I recently tried three recipes from the book and I thought I'd share them with you. Since this book is a collection of their previously published recipes, you can also find them online.
Chickpea-Pesto Tomato Soup
Pre-run, Gluten-free, Vegetarian, Fast, Low-calorie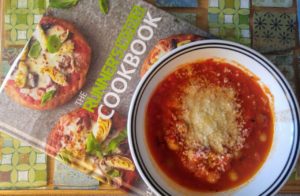 I'm really drawn to the soups in this book since I don't have a lot of soup-cooking experience and thus appreciate new recipes.
This canned tomato soup was a great step up from warming condensed canned soup without all the peeling of a fresh tomato soup. The addition of the chickpeas added texture and made the soup more filling. To lessen the cost of the recipe, I did not buy pesto. Instead, I topped it with Parmesan cheese.
Leftover Change Up: Next day, I added cooked chicken sausage to add even more protein.
Recipe: Chickpea-Pesto Tomato Soup + 3 more soups featured in the book
Chicken-Mango Fajitas
Recovery, Fast, Low-calorie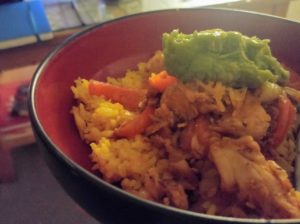 This recipe uses fresh fruit and vegetables to make a sweet and savory fajita mix. I used frozen cooked chicken to speed up preparation. To lessen the cost of the recipe, I used frozen mango. I'd also recommend adding red onion.
Leftover Change Up: Instead of another tortilla, I set the leftovers atop a bowl of turmeric rice.
Recipe: Chicken-Mango Fajitas
Southern Unfried Chicken
Recovery, Low-calorie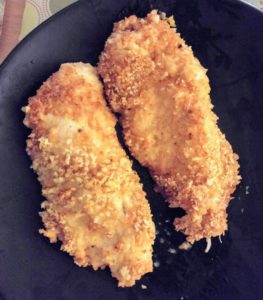 These were some deliciously spicy chicken tenders, but like frying chicken – prep time is long. The chicken is marinated in buttermilk and hot sauce for 1-24 hours, then after breading, the chicken is chilled for 30 more minutes before cooking. I recommend making a large batch to freeze so you can add them to other meals.
Leftover Change Up: Top salads, make a sandwich, or just eat them straight out of the fridge, like I did.
Recipe: Southern Unfried Chicken
Recommendation
I recommend this book if you're looking for new ingredient inspiration with a focus on a rainbow of produce, runner-appropriate carbohydrates, and the right kind of fats. If you've enjoyed many of the recipes from the magazine, I suggest grabbing The Runner's World Cookbook for your collection. Some version of Chicken Sausage Rigatoni often ends up in my weekly dinner rotation.