Meb Keflezighi won the Boston Marathon a decade after his 2004 Olympic medal and 2 weeks before his 39th birthday. How did he continually defy the odds and what can we, mere mortals training for a marathon, learn from it? That's what Meb for Mortals hopes to answer.
Disclosure: I was not asked to review this book. I was not given this book for purposes for promotion or review. All opinions are entirely my own. The links below are Amazon Affiliate links. If you click through and buy something, I will earn a small commission at no cost to you.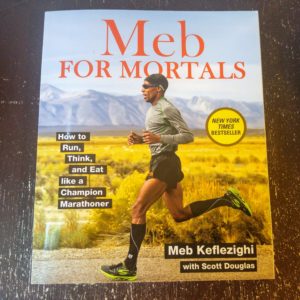 Meb for Mortals was written by Meb Keflezighi with Scott Douglas and published by Rodale Books. Scott Douglas is a senior content editor for Runner's World and has co/written many books on running. You can find the book here on Amazon.
Meb for Mortals Review
The book's tagline is "How to run, think, and eat like a champion marathoner" and it's a down-to-earth guide on how to incorporate the training, nutritional, and supplemental-to-training principles that Meb is known for into your own marathon training. If you like the casual-informational style of Runner's World or this blog, you'll be pleased with Meb for Mortals.
"All the Little Things"
People claim that Meb was so good for so long, because he was good at "all the little things". And Meb's reply is that "they aren't little things".
This book has entire sections on:
Running drills
Strength building exercises
Stretches
And these are all not-so-little things that will:
Improve your running form
Increase running cadence
Encourage your muscles to work in sync
Build muscles that aid in running
Improve your flexibility and mobility
Decrease your risk of injury
These items are often overlooked in training programs, but not in this book. The sections are full of illustrations and basic instructions for many exercises. He also creates short five-minute routines as a place to start, or when you're just crunched for time.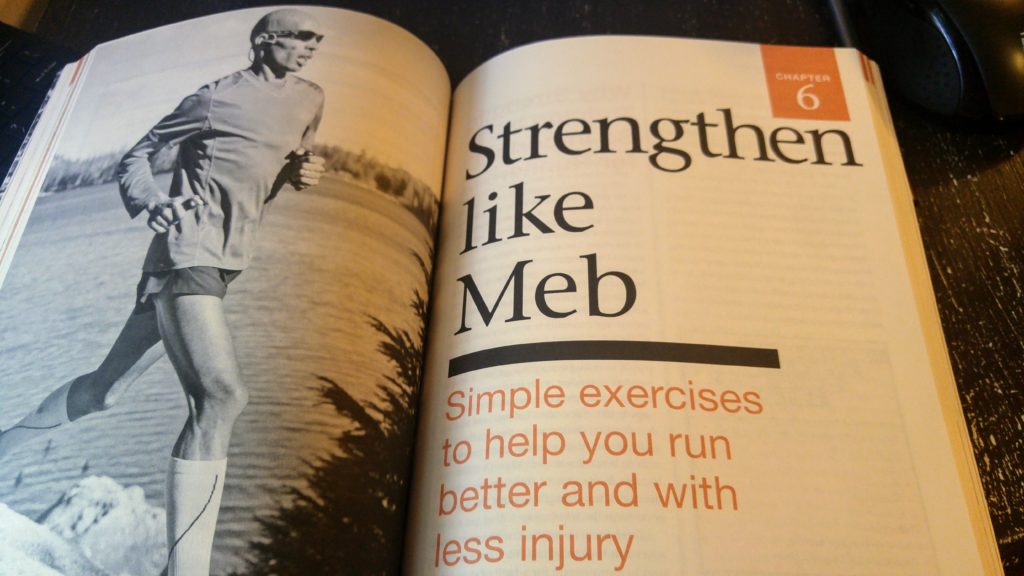 Training Principles
The basic training principles that Meb puts forth are digestible and applicable. He uses anecdotes to explain what he does when a workout or race is going poorly and when to dial it up when you're feeling good. Besides explaining the basic building blocks of a good training cycle, he also shares some principles that are often not touched on.
Unique Training Principles
Why you might run in blocks of 9 days, instead of 7 day blocks.
Cross training – why and how to do it
Slowing your recovery runs down in reference to your training and racing paces
Recommendation
Things I didn't like: Some of the exercises could benefit from video and I wish the book had accompanying online videos or a DVD. While Meb shares some training cycle samples, they seem so pulled from context that it is difficult to know if they are applicable to you. He also mentions all of his brand sponsors at some point. He discloses his relationship with them, but also explains the relevant and beneficial features of the product and how they meet his needs.
Things I liked: Meb includes many anecdotes on his races, balancing family and running, and even struggles with comparison to others. The book also includes many asides that break down the chapter's information into simple Dos and Don'ts or Tips of the Trade.
I recommend this book for those looking to learn more and round out their running education. Overall, I think this is a great book chock full of Meb morsels. If you enjoy Scott Douglas's clear and concise writing and Meb's spirit and positivity, you'll appreciate Meb for Mortals.

More Book Reviews:
Readers: What's your favorite training book?