Looking Savannah destination races? Here's the best races worth the vacation or girls trip in Savannah GA. Beach, bling, mud, donuts, and beer included.
Savannah Destination Races Worth the Travel
Savannah is a great place to visit, but you might not think to come here to run. It's hot and humid in the summer, but we race in the early spring, fall, and late winter. You can do your favorite summer races elsewhere and visit Savannah when it's tolerable. Savannah is super flat (we make a huge annual event just to run our one big bridge) and the abundance of food and drink make post-race a blast.
I've marked typical dates, bling, and swag. As well as if the race distances are concurrent (start at the same time) or in series (so you can run in multiple distances).
Date: First Friday & Saturday in February
Distances: 5K, 10K, Half Marathon, 2.8 mi beach run, and 1 mi fun run (series)
The Critz Tybee Run Fest has an evening 5K followed by four more events on Saturday, totaling a full marathon distance. You can run one race, multiple races, or all of them. The run fest has all the perks of a big race – chip timed and well-organized – while still remaining small with easy parking. Food and beer is basically unlimited post-race.
Tybee Island is a small beach community and it's flat, easy road running for most of the distances. The cool weather is great for racing, although it's a bit chilly to chill on the beach for long.
Typical Bling & Swag: Finisher's medals for half marathon and for finishing all five races, long sleeve cotton or cotton-blend t-shirt, annual pass to the Marine Science Center. In 2018 they had technical fabric shirts and finisher medals for all races for their 10th anniversary.
My 2018 Race Recap (all five distances)
Race Website
Date: Early April
Distances: Half marathon and 5K (concurrent)
This race is special as it caters to women (although men are welcome to run, they cannot compete for awards) and makes it great for a girl's vacay at a perfect time to visit Savannah. There is wine and massages at the expo the day before. There is a mimosa and a live band waiting for you at the finish. The race is completely in historic downtown Savannah which is beautiful (although running the squares makes for some tight turns) and the mostly women participation means you'll be in a corral closer to the start.
Typical Bling and Swag: Finisher's medals for both distances. Instead of unisex t-shirts, this race does something different. The first two years they gave high-quality bags (a duffel and a tote). Last year was a wrist bangle.
My 2017 Race Recap (Half Marathon)
Race Website
Date: Mid June, typically around Father's Day
Distances: Varies, recently it's been 5K and 5 mi (concurrent) with teams and sometimes single runners
The JCB manufacturing plant in Pooler just outside Savannah has a ton of fun on their property making muddy obstacles for Savannah every summer. This run is a blast with 30+ obstacles including climbs, slides, tunnels, and soupy, muddy, mud mud.
Typical Bling and Swag: Short sleeve technical t-shirt and all the mud you can carry, post-race party with beer, and free professional photos
Date: Typically first Saturday and Sunday in November
Distances: Saturday – Marathon, Half Marathon, Half Marathon Relay (concurrent). Sunday – 5K and 1 mile (series)
This is Savannah's largest race with 15-20K runners. With one of the few offerings of a marathon distance in Savannah and rock bands scattered along the course, this race can be hard to turn down.
Typical Bling and Swag: Finisher's medals for all distances, extra medals for multiple distances. Finisher's jacket for marathoners. Short sleeve technical t shirt.
My 2017 Race Recap (Half Marathon)
Race Website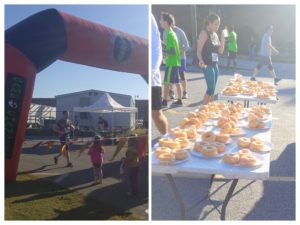 Date: Mid November
Distance: 5K with 1-6 donuts
This is a low-key, hilariously fun, locally-run race. You run 2.5km to Baker's Pride Bakery, eat your pledged number of donuts, and run back. Rather than age-divisions, medals are awarded by donut-divisions. You compete against other runners who have pledge to eat the same number of donuts (1-6).
Typical Bling and Swag: Finisher's medal (even if you don't eat all your donuts) and upgraded medal if you place in your donut-division. Short sleeve technical t-shirt. Free professional photos. And donuts mid-race!
My 2017 Race Recap (3 donuts)
Race Website
Date:  First Saturday in December
Distances: 5K and 10K (series)
A huge local favorite, this race has a costume contest and it's the one time to test yourself against Savannah's Talmadge Bridge in race format. All the rest of Savannah is flat, so the locals take this as an annual challenge. The 5K crosses the bridge once. The 10K, twice.
Typical Bling and Swag: Finisher's medals for 5K, 10K, and Double Pump (Double Pump doesn't get three). t-shirt. Post race party.
My 2017 Race Recap
Race Website
Savannah Runners: Which race do you refuse to miss?